News
April 21, 2017
If Interested Please Email to Set up Appt.
About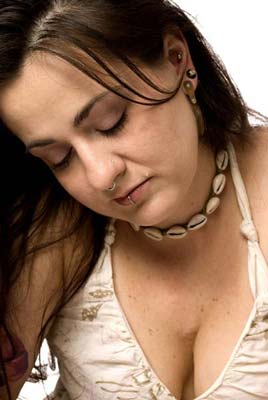 Angie Leaf began her life of art early in her childhood, drawing at the early age of four. By the age of eleven, she was oil painting and exploring other artistic media, including pastels and charcoal. Angie began tattooing in 2001 in a local Las Vegas tattoo shop. She worked at many tattoo shops throughout the next nine years until she finally reached her long term goal of opening her own tattoo and piercing studio. You can find her there, at Fallen Leaf Tattoos, most hours of the day. So, if you're interested in getting a new tattoo or piercing, please stop by the shop and introduce yourself…you'll be glad that you did!
FAQ
FAQs
How do I begin the process of getting tattooed by Angie Leaf?
The best way to initiate the process of getting work done is to arrange a consultation. When you come in for your consultation, bring a cash deposit with you along with any references that you might have. The amount of the deposit will depend on the amount of work to be done. Back pieces and sleeves run a minimum of $100 for the initial deposit. Please understand that we will not duplicate someone else's tattoo for you. Rather, we are interested in designing a custom piece for you that reflects your own individuality. Please be advised that there is a significant wait to get on the calendar. There is about a 6 month wait between the consultation time and the tattoo appointment. If you are in the process of getting a large piece, your appointments will be scheduled about once a month until the project is complete.
What are the shop hours?
Standard shop hours are Tuesday through Saturday from 12 noon to 6 pm. We do have an extensive travel schedule, so if we are not present during those hours at the time of your visit, please try again at a later date. We would like to work with you, we just may be out of town. If you require more immediate assistance, feel free to email us using the "Contact" link.
What type of documentation is required?
A government issued identification card is required for all clients. Examples of this include a state issued ID card, driver's license or passport. If you are a minor, school IDs are NOT accepted, as they do not meet the identification guidelines set forth by the SNHD (Southern Nevada Health District) .
How old do I have to be to get work done?
We do not work on anyone under 16 years of age. If you are a minor between the ages of 16 and 18, it is required that you are accompanied by your legal guardian, who must also present a government issued ID. The last names on both IDs need to match, or else additional documentation (such as a birth certificate) is required to prove the relationship, as per the SNHD. Please also be advised that according to the SNHD health guidelines, children under 14 year of age are not permitted in the shop. Please arrange for their childcare prior to your appointment.
What do I do if I need to cancel my appointment?
If you are unable to make your scheduled appointment, please give us the courtesy of letting us know at least 48 hours ahead of time, if possible. We do understand that occasionally emergencies do come up, however, if you "no call/no show", your deposit will be forfeited along with any subsequent appointments in future months. In order to reschedule after a "no call/no show", you will have to leave a minimum deposit of $100 before being given new appointment dates. It's easy to avoid this by either making a phone call or sending an email. Please just let us know in advance that you need to cancel!! Thank you!
What is the best way to prepare to get a tattoo?
The best preparation for getting a new tattoo is to eat well before coming into the shop, drink a lot of water, and get as much sleep as possible the night before your appointment. Dress comfortably, wearing clothing that is loose fitting and well- thought-out, so that the area to be tattooed is readily accessible. Bring bottled water or your beverage of choice with you, along with a fully charged cell phone and headphones so that you can listen to your own music or play on your phone if you find the distraction beneficial.
What type of payments are accepted at the shop?
We prefer cash, but we also accept Visa, Mastercard, and Discover. Please be advised that we do charge an additional $5 processing fee to run a credit card transaction.
Do you do dermals?
Unfortunately, we do not provide single-point piercings, otherwise known as dermals or anchors.
Do you offer any piercing specials?
We do offer a buy two piercings, get one for free special on all of our standard piercings. All three piercings need to be done on the same individual, and the "free" piercing will be the least expensive of all of the piercings.
How much are your piercings?
Most of our standard piercings range in price from$30 to $40. All piercings prices include the cost of the standard jewelry (SS 316LVM). Upgrades are always available at an additional cost. Here is our pricing for some of the most common piercings:
Cartilage (Helix) $30 Monroe $40
Conch $60 Navel $30
Daith $60 Nipple $50
Earlobe $30 Nostril $40
Eyebrow $30 Rook $60
Industrial $60 Septum $80
Labret $40 Surface $80
Lip $30 Tongue $30
Medusa $50 Vertical Labret $50
For other prices not listed here, please call us at 702-489-5323